FCI-国际纯种犬标准第 343 号
CANE CORSO(Italian Cane Corso)
意大利凯因科尔索犬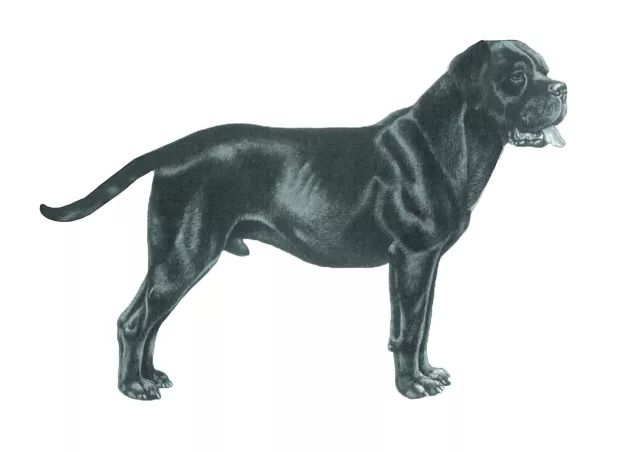 并不一定代表该犬种的理想类型
ORIGIN:
Italy
起源国:
意大利
UTILIZATION:
Utility dog, polyvalent.
用途:
多用途犬。
FCI-CLASSIFICATION:
Group 2 Pinscher and Schnauzer, Molossian and Swiss Mountain- and Cattledogs.
Section 2 Molossoide breeds, Mastiff type. With working trial.
FCI分组:
第2组 宾沙犬和雪纳瑞类,獒犬、瑞士山地犬和瑞士牧牛犬
第2类 獒犬类
有工作犬测试。
BRIEF HISTORICAL SUMMARY:
Its direct ancestor is the old Roman Molossian. Formerly scattered all over Italy, in the recent past, the breed was only prevalent in the province of Apulia and in the adjacent regions of Southern Italy. His name derives from the Latin "cohors", which means "protector, guardian of the farmyard".
---
历史沿革:
它们的直接祖先是古代罗马獒犬。以前分布在整个意大利,后来在南意大利阿普利亚地区以及附近区域盛行起来。它们的名字来源于拉丁语cohors(卡斯罗),意思是"农场保护者,卫士"。
GENERAL APPEARANCE:
Medium to large sized. Robust and sturdy dog, nevertheless with some elegance. Lean and powerful muscles.
总体外形:
体型为中型或大型。强壮,结实,也很优雅。瘦长,肌肉强健。
IMPORTANT PROPORTIONS:
The dog is rectangular in outline and is slightly longer than tall. (The length of the dog is 11% greater than the height of the dog). The length of the head reaches 36 % of the height at the withers.
重要比例:
该犬种外形轮廓接近矩形,且身长略微大于身高。(身长大于身高11%。)头部是肩高的36%。
BEHAVIOUR / TEMPERAMENT:
Guardian of property, family and livestock; extremely agile and responsive. In the past, it has been used for herding cattle and hunting big game.
行为/秉性:
是财产,家庭和牲畜的保护者;动作十分敏捷,反应十分灵敏。过去它们被用来集中畜群和狩猎活动。
---
HEAD:
头部
Large and typically molossoid. The upper longitudinal axes of the skull and the muzzle are slightly convergent, without evident wrinkles.
大,典型獒犬特征。头部上部的纵轴和口吻部稍微趋向一点,无明显皱纹。
Skull: Broad at the zygomatic arches the width is equal to the length. Convex in front, it becomes flat behind the forehead as far as the occiput. The medio-frontal furrow is visible, beginning at the stop and ending at about the middle of the skull.
头骨:宽大;颧骨弓处的宽度和头骨长度一致。前部凸出,前额后部变平直至枕骨。额中部褶皱可见,从额段到头骨中间部位。

Stop: Well defined, with prominent frontal sinuses.
额段:明显,正面凸出。
Nose: Black. A grey mask may have a nose colour of the same nuance. Large nose with ample open nostrils. Nose placed on the same line as the nasal bridge.
鼻:黑色。灰色脸颊的犬只鼻子颜色应与其相差无几。鼻大,鼻孔大而开阔,鼻孔足够张开,和鼻梁在同一线上。

Muzzle: Strong, square, noticeably shorter than the skull, ratio muzzle : skull approximately 1 : 2. The front part of the muzzle is flat; the lateral surfaces are parallel; the muzzle is as broad as it is
long. Seen from the side it is deep. The profile of the nasal bridge is straight.
口吻:强壮,明显比头骨短(口吻与头骨长度比例大约为1:2)。强壮,方形;口吻部前端扁平;口吻两侧面互相平行;口吻部宽度和长度相当。从侧面看很深。鼻梁轮廓笔直。

Lips: The upper lips; seen from the front, form an inverted "U" at their meeting point; seen from the side hangs moderately. They cover the lower jaw and determine the profile of the lower part of the muzzle.
嘴唇:上嘴唇:从上面看,在连接处形成一个倒转的"U";从侧面看适度悬垂。适当下垂覆盖下颚,因此口吻部下面轮廓由嘴唇决定。

Jaws/Teeth: Jaws are very large thick and curved. Slightly undershot but no more than 5 mm. Level bite tolerable but not sought after.
颌/牙齿:颌非常大,厚且弯曲。下颚稍微突出可以接受,但不能超过5毫米。水平咬合可以接受但是要尽量避免。

Cheeks: The masseter region is fully evident, but not bulging.
脸颊:咬肌发达但不凸出。

Eyes: Medium-sized, slightly protruding, but never exaggerated. Close to ovoid in shape, set well apart in an almost sub frontal position. Eyelids close fitting. The colour of the iris is as dark as possible but according to the coat colour. Expression is keen and attentive.
眼睛:中等大小,轻微突出,但不过分。几乎呈卵形,直视前方,稍微有些突出,自然地位于额叶下。眼睑贴合紧密。虹膜越深越好,这由犬的被毛颜色决定。眼神注意力集中而敏锐。

Ears: Triangular, drooping, of medium size. With a wide set-on that is much above the zygomatic arches. Ears are un-cropped.
耳朵:三角形,下垂,中等大小。耳根宽大,位于颧骨弓上部。未剪耳。
---
NECK:

Strong, muscular, as long as the head.


颈部:

强壮,肌肉发达,和头部长度相当。


---
The body is somewhat longer than the height at the withers. Sturdy built but not square.
身体长度比肩高稍微长一些。身体敦实有力,但是不方。

Withers: Pronounced, rising above the level of the croup.
肩隆:明显,比臀部水平线高。

Back: Straight, very muscular and firm.
背:直,肌肉发达且紧实。

Loin: Short and strong.
腰: 短且强壮。

Chest: Well developed all through reaches to the elbow.
胸:整体发育良好,直至肘部。

Croup: Long and wide, slightly inclined.
臀:长,宽,稍微倾斜。

TAIL: Natural. Set on fairly high; very broad at the root. In action carried high, but never erect or curled.
尾:自然。尾部位置较高;尾根粗。行动中高高扬起,但是从不竖立或卷曲。
---
Shoulder: Long, oblique, very muscular.
肩:长,倾斜,肌肉发达。

Upper arm: Strong.
上肢:强壮。

Forearm: Straight, very strong.
前肢:直,非常强壮。

Carpus (Wrist): Elastic.
腕关节(腕骨):有弹性。

Metacarpus (pastern): Elastic and just slightly sloping.
掌骨(系部):有弹性,且轻微倾斜。

Forefeet: Cat feet.
前足:猫足。


Thigh: Long, broad, back line of thigh convex.
大腿:长,宽,大腿后缘线突出。

Lower thigh: Strong, not fleshy.
小腿:强壮,肉不多。

Stifle (Knee): Solid, moderately angulated.
后膝关节:结实,角度适中。

Metatarsus (Rear pastern): Hocks well let down. Cowhocks highly undesirable.
后腿系部:跖骨自然下垂,不能是牛肢。

Hock joint: Moderately angulated.
跖关节:角度适中。

Metatarsus (Rear pastern): Thick and dry.
后腿系部: 厚,干燥。

Hind feet: Slightly less compact than the forefeet.
后足:稍微没有前足紧凑。
---
GAIT/MOVEMENT:


Long stride, extended trot; the preferred gait
is the trot.



步态/动态:

步伐大,伸展充分。最理想的步态是小跑。
---
SKIN: Fairly thick, rather close fitting.
皮肤:相当厚,紧实。

Hair: Short, shiny, very dense with a slight undercoat of vitreous texture.
毛质: 短,有光泽,非常密,底毛不多,类似玻璃质地。

Colour: Black, lead-grey, slate-grey, light grey, light fawn; dark fawn and stag red; dark wheat colour (stripes on different shades of fawn or grey); in fawn coloured and brindle dogs the black or grey mask on the muzzle should not go beyond the line of the eyes. A small white patch on the chest, on the tip of the toes and on the bridge of the nose is acceptable.

毛色: 黑色,铅灰色,青灰色,浅灰色,浅黄褐色;深黄褐色和牡鹿红;深小麦色斑纹(不同形状的黄褐色或灰色条纹);在黄褐色和斑纹色犬种,口吻部黑色或灰色部分不应超过眼睛边缘线。胸部有小白色斑块,脚趾尖和鼻梁上的小块白色斑点可以接受。
---
Height at the withers:
Males: 64 cm – 68 cm.
Females: 60 cm – 64 cm.
With a tolerance of 2 cm, more or less taller.
肩高:公犬:64-68厘米,母犬60-64厘米。允许有2厘米误差。

Weight:
Males: 45 – 50 kg.
Females: 40 – 45 kg.
Weight according to the size of dog.
重量:公犬:45-50公斤,母犬40-45公斤。体重的依据是犬只体型大小。